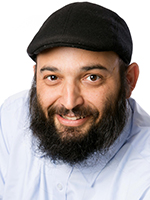 Rabbi Hanania Cohen was drawn into the world of holistic medicine emphasized in ancient Chinese and Japanese paradigms after learning martial arts philosophy, only he wanted to heal. 
His mission is to use traditional methods of medicine combined with the most modern scientific tools in order to bring health in physical, emotional, spiritual and mental aspects of each of his patients' lives. He looks for every opportunity to encourage happiness and smiles with his patients, while holding them responsible for their health and spiritual development.
Qualifications & Credentials
Traditional Chinese Medicine Diploma- Reidman College (Jerusalem)
Clinical Internship at Chengdu University Hospital (led by the Top Doctors in the People's Republic of China
Masters Degrees in Science Oriental Medicine (MSOM)  (Dongguk University Los Angeles)
Certifications: 
Hypnotherapist 
Neurofeedback 
Posture neurologist 
Functional Medicine Practitioner
The goal of any kind of therapy is to reach balance and homeostasis. In Chinese medicine, we balance the YIN and the YANG to create harmony between Heaven-Human-Earth.
I help you reach balance by working on 3 aspects simultaneously.
Physical

by using acupuncture and herbs or supplements to stop pain, recover from injury faster, digestion and many other internal health concerns.

 

Emotional

by using hypnotherapy to achieve balance and help you reframe your mindset to handle everything from managing stress, losing a loved one, low-self esteem or to break old habits.

Mental

by using Neurofeedback (or Biofeedback for the brain). This technique regulates your brainwaves to get into shape, so he can function better and faster. This is especially important for people with post-traumatic stress, learning disabilities, addiction or OCD, etc.